Zoosk is the fifth most popular dating app in the world, and the third most popular in the US. Founded in 2007 by Shayan Zadeh and Alex Mehr, it's been part of the online dating scene for over 12 years.
Research for this review shows impressive figures too. Zoosk boasts 40 million users worldwide, and 60,000 in New Zealand alone.
With such impressive review statistics, it's clear that Zoosk is doing something right. Users can enjoy a Zoosk app, and send Zoosk gifts, as well as benefiting from Zoosk behavioural matchmaking.
Popularity isn't always enough though, so we've carried out an in-depth Zoosk review to see exactly what this particular dating site experience offers.
Our Summary
What is Zoosk? Put simply it's a dating platform for all ages and backgrounds. It's been around for a long time and seems to attract users who are looking for a serious relationship, rather than a casual hook-up.

Something that was clear while we were doing this Zoosk review is that this dating experience has strong roots in Facebook culture, and things like being able to send virtual gifts are reminiscent of many very early Facebook games. Whilst the Zoosk dating site attracts a range of ages, things like this mean it is skewed towards a slightly older user.

Something that stands out as part of this Zoosk review is that men and women are treated equally on the site. There's no free membership for women, which we think removes that sense of women being a commodity that is prevalent on other sites.

A big thing that came out of our review of this online dating site is the usability of the Zoosk App. It's as effective as the full website, and all the special features like Zoosk Carousel and Smart Picks are part of the App experience.

Overall, we like Zoosk. It's a friendly site and has a lot of fun features. The Smart Pick technology seems to work, and it removes the need for a lengthy questionnaire.

The only major criticism we found while doing this Zoosk review is the number of extras. You have to pay to get all the special features, and this can become expensive.

Feedback from users seems to suggest there's less opportunity to earn free coins too, so you've no choice but to pay out. This is no different from other dating sites, and the benefits of Zoosk matching technology outweighs this slightly irritating aspect of the service.
🆓 Free services and paid-for services
Free services
As part of the research for our Zoosk review, we found you can do quite a lot on Zoosk before you decide to go for full membership.
Register your account
Create a profile
Send smiles and hearts to other Zooskers
Access Zoosk Carousel, where you can see profiles and select to match or meet – this helps populate Zoosk's algorithmic recommendations technology
View full profiles
What you can't do is make any kind of contact beyond sending a smile. Like many other dating platforms, if you want to get to know one of your matches, you'll have to pay.
Paid for services – what do you get for your money?
A basic subscription gives you these benefits:
Send messages to other users
Get full access to Smart Picks – the people Zoosk's matchmaking algorithms have found for you
Use the chat room
See who has sent you a smile or a heart
Review your connections and delete anyone you no longer want to interact with.
Zoosk coins
Zoosk also has a system of credits called Zoosk Coins, which you can use to enhance your experience. Zoosk coins can be used to pay for things like incognito browsing, boosting your profile, and to send Zoosk gifts. Zoosk coins can be bought and used by free or paid members.
Additional upgrades
As well as the basic member's package, and the coins, subscribers can opt to buy various upgrades. These include Instant Crush – where you tell someone on the Carousel you have a crush on them, and Hide and Seek, which allows you to alter your visibility online.
💰 Prices – What does Zoosk cost?
Subscriptions
| | | |
| --- | --- | --- |
| | Monthly price | Total |
| 1 month | 51.99 NZD / Month | 51.99 NZD |
| 3 months | 33.33 NZD / Month | 99.99 NZD |
| 6 months | 23.33 NZD / Month | 139.99 NZD |
Zoosk Coins
| | |
| --- | --- |
| 50 coins | 8.99 NZD |
| 250 coins | 34.99 NZD |
| 750 | 89.99 NZD |
What other charges are there?
Something we found out when doing this review is that there's a one-off activation fee of around 20 NZD, as well as the cost of any upgrades. So bear that in mind when comparing the site to others of a similar ilk.
How to pay?
Credit card, debit card and PayPal are all accepted.
💡 How to reduce costs at Zoosk?
All these microtransactions add up, but there are ways you can save money.
Earn Zoosk coins
Simple things such as liking the Zoosk Facebook page or downloading the Zoosk app will earn you coins. A quick web search will show up occasional promotions, for example signing up to a particular credit card is rewarded with coins. They also run a daily raffle, so you never know, you might get lucky.
Sign up for a longer period
The simplest way to save money is to sign up for a longer period of time. This isn't risk-free, though, and membership isn't refunded if you decide to end your association with the site. That means if you find your match quickly, you'll be out of pocket.
📊 Membership structure
Inclusive, fun and friendly way to find a long-lasting relationship
Zoosk is a social platform for all age groups. It's gay, lesbian and queer-friendly, and has a good balance of men and women using the site.
The sheer number of people using the site – 60,000 in New Zealand – means the level of activity is high, with an average of 8,000 active members each week.
The majority of people are looking for a serious relationship, and you can find plenty of success stories on the website.
International coverage
Zoosk is available in over 80 countries and has been translated into 25 languages. It's one of the most popular online dating platforms in the world.
A lot of this success is down to the Zoosk app and Zoosk mobile dating, which makes the service available on iOS and Android app store as well as the web.
✍️ Registration
Signing up is simple
Visit the site

Go to Zoosk.com

Information

Enter your email, orientation and indicate preferences

Location

Enter your location

Criteria

Indicate your criteria for body type, religion, views on having children, highest level of education etc.

Activation

Set activation email – your access to the account is limited if you don't do this.
The whole sign up process takes around five minutes. If you want to make it even quicker, you can sign up via Facebook or Google. It takes about ten minutes to complete the profile.
Shortcuts
If you're in a real hurry, then the photo upload section can be skipped, but this inevitably affects how many people will interact with you. It also means you can't use the Zoosk carousel, which is the main way info is gathered to build Zoosk's behavioural matchmaking.
📱 User-friendliness
One of the things behind Zoosk's appeal is its user-friendly site. It's designed to appeal to a wide range of people, and while that might mean it's a bit dull for younger users, the popularity of the dating experience can't be denied.
The main menu sits on the left of the screen, and it's from here you'll navigate the site. Towards the bottom of the menu, you'll find Smart Picks, which is where you'll answer questions to allow you to maximise the benefit of Zoosk algorithm recommendations technology.
Finally, you'll find Dating Insights, which shows you the picture Zoosk has built based on your activity on the site.
On the right, you can see your profile, and a drop-down menu allows you to make changes to your profile, keep track of your Zoosk coins, and activate other features like going invisible.
To the right is the chat icon, which shows who you're talking to, and gets you into the chat room.
Finally, at the top is a bell icon to indicate how many notifications you have. This is cleverly placed next to the option for boosting your profile.
Zoosk app – what's different and are there any special features?
As part of our review, we looked at the Zoosk app, and it's pretty good. It's free to download and mirrors the functionality of the web service really well. Signing up is a bit quicker, and you'll find the straightforward design is easy to use.
The main downside is the number of ads – these can be disruptive. The way to avoid them – you guessed it – is to go premium.
The only real difference is that the "Search" section is called "Discover", and you filter your searches by using the browse button rather than editing as you do on the web.
Reviews show that people seem happy with the functionality of the app, although there are a fair few reviews that grumble about the charges for all the little extras.
✉️ Contacting users
Once you've processed the activation email, contacting other users is straightforward. You can send flirt pings and digital gifts (if you've got enough coins).
Unless you've paid, you can't reply to any pings or pressies though, which is frustrating but obviously designed to encourage you to sign up for the premium service.
For subscribers, messaging and chat is easy using the icon at the top right of the screen.
You can either use the carousel feature to find a match, which shows photos of users, or a search facility that lets you find matches by profession, appearance, or other crucial criteria like views on having children.
Using the Carousel
From doing this review, it's clear that the Carousel feature is what makes Zoosk different. For each person you see, you select match, meet or maybe and Zoosk uses this to build up a picture of the type of person you're looking for.
👍 Pros and cons 👎
✔️ What we like
Large member base means a good chance of finding a match
Good balance of men and women on the site
Men and women are treated equally – no free membership for women, which kind of sits better in terms of mutual respect
Safety – Zoosk has very few fake profiles
Facility to report or block fraudulent or abusive users
Responsive to known issues – for example, they recently introduced Insignia, a three-step verification process to combat fake military profiles
Active network – 3million messages a day
International – 80 countries and 25 languages
Photo Verification means a reduction in false profiles.
❌ What we don't like
Limited to browsing one by one
No messaging unless you pay
Cannot search by common interests
Only Zooskers with a photo can use the Carousel
Lots of microtransactions and upgrades make things confusing, and potentially expensive.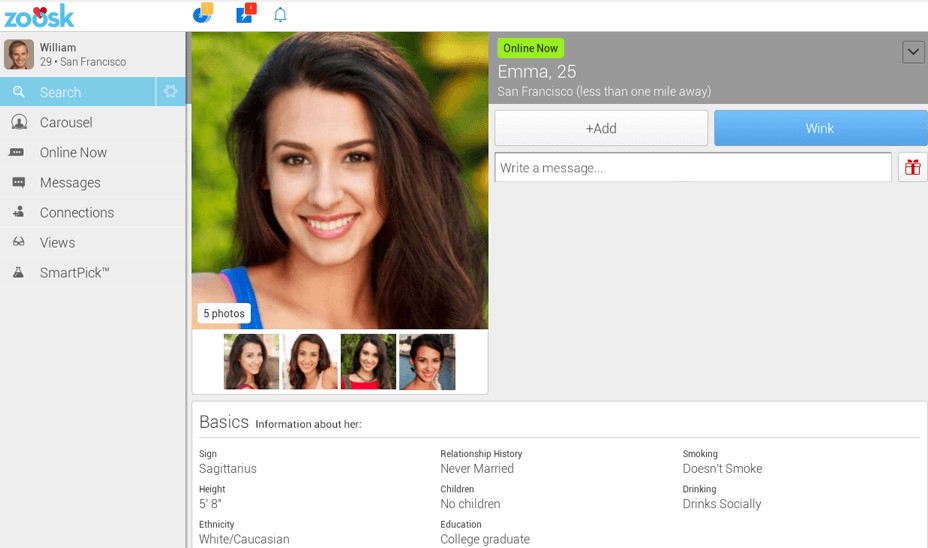 🙋 FAQs
How can I tell if someone is a subscriber?
If someone is a subscriber to Zoosk it's indicated on their profile, and only subscribers can send messages.
How can I block someone?
Click the report/block button on their profile.
How can I remove connections?
If you decide you don't want to talk to someone anymore, just remove them as a connection. This is really straightforward.
From your computer:

1. Log in to zoosk.com
2. Click on "Connections"
3. Click the picture of the connection you want to remove. This brings up a menu
4. Click "remove connection" and click "yes" to confirm.
From your Android or iOS device:
1. Log in to the Zoosk app
2. Tap on the profile you want to remove from connections
3. Tap the three dots "…" – you'll find these on the top right of the profile
4. Choose "Remove Chat Permission" from the list of actions
What does it mean to add someone on Zoosk?
Adding someone means you're interested in them and want to talk. Whenever you send a like or a smile, it means you want to make a connection.
How can I tell when someone was last online?
You'll see a green dot if they're online now, or a blue dot if they were online recently.
How can I chat on Zoosk?
The Zoosk chat room is available to all paid members.
How do I change the country on Zoosk?
1. Go to zoosk.com and log in.
2. Click on your profile photo at the top right corner, then click on "My Profile".
3. Next to your location select "edit".
4. Enter your new location or postcode and click "save".
What are Zoosk coins?
Zoosk coins are used to buy extra features. With Zoosk coins you can:
1. Boost your profile
2. Send virtual gifts like flowers, or a box of chocolates
3. Browse invisibly – 30 coins for 30 minutes.
You can buy Zoosk coins or earn them through occasional promotions.
What are Zoosk personals?
These are messages that come directly to your inbox
What are Zoosk gifts?
You can send a virtual gift, such as chocolates, flowers or a virtual kiss.
What are Zoosk Smart Picks?
These are people Zoosk picks out for you by gathering and analysing your activity on the site.
What is Zoosk Carousel?
This is Zoosk's main matchmaking feature. Using Zoosk Carousel you can send flirt pings or skip a person if they're not your cup of tea. Who you choose or reject affects the Smart Picks Zoosk comes up with.
What are Zoosk connections?
A connection is made if you and another member both say "yes" to each other.
ℹ️ Company information
Founders and CEO: Shayan Zadeh and Alex Mehr
Website: www.zoosk.com
Headquarters:
989 Market Street
Fifth Floor
San Francisco, CA 94103
United States
We also have reviews of all these dating pages