Badoo stands out as a multi-national social media platform with a chilled-out attitude and good quality location-based matching algorithms that work well. Created by Andrey Andreev in 2006, it's grown quickly to become the world's most widely-used dating network. By incorporating social games and quizzes, as well as a huge social discovery network that covers the entire planet, it's quite simply the largest dating app in the world.
We think that if over 423 million people think it's good, then it probably is. But are there any downsides to the Badoo app? We decided to have an in-depth look at Badoo to see what it's all about, and create our own Badoo review for you.
Check our ranking with the best dating apps in New Zealand!
Our Summary
Badoo is, without doubt, the largest online dating network in the world. The sheer number of people using the app and the relatively poor search parameters means that it can be very difficult to locate like-minded people in your area, whether you want to simply chat or look for a date.

However, with over 423million users and millions of messages flowing through the network every day, it's hardly surprising that there may be times when you are not going to get exactly what you want out of the service.

Where Badoo does deliver, though, is through the use of a freemium model that makes it quick, easy, and above all, free to register. The Premium service costs are relatively low when compared to rival operators, which makes it popular with the targeted demographic of 20-35-year-olds.

The lack of more refined search functions makes it a little 'hit and miss' when it comes to matches, but the local service is a bonus that makes it relatively easy to find matches in your area.

Overall, we like Badoo – it does exactly what it says on the tin and is mercifully free of the usual bells and whistles that can over-complicate other dating websites. We strongly advise using the mobile app, which is much clearer and user-friendly than the web-based site.
🆓 Free services and paid-for services
Signing up to Badoo is free to start with. Once you've joined, you can immediately join in with the site's 'Encounters' game, which is a simple 'yes/no' s ystem. If both people vote yes on each other's profile, they can then start chatting.
The 'People Nearby' function is also available and narrows down the area so that you can talk to users in your area.
Just like other dating platforms, Badoo makes its money through advertising, so if you only sign up for the free service, expect to see adverts and product placements throughout the service. You can try turning on your OS ad-blocker, but that may interrupt the access you have to the site, and in some cases, block it entirely.
The Badoo Premium service – paying for those little extras
If you want more than a general 'meet and greet' service, the Premium package offers extra features. These include:
Liked you: Gives you the chance to see who voted 'Yes' on your profile in the Encounters game
Invisible Mode: Allows you to browse the service without your profile being visible
Undo last Vote: Everyone changes their mind, so this lets you undo a 'No' vote in Encounters if you decide you do like the look of another person's profile
Added you as Favourite: Lets you see who likes you
Chat: Let's be honest – a dating site is always going to be a popularity contest, so this feature lets you network with the most popular people on the platform.
New chat: Lets you talk to people as soon as they join Badoo
Highlight messages: Get noticed by other users by going to the top of the message listings
Ad-free access: Paying for the Premium service means you don't get interrupted by adverts all the time
💰 Prices: How much does Premium cost?
If you want to access the Premium features, you'll need to buy Badoo credits in packages that range from around $2.99 to $19.99 (USD). If you want to buy a Premium subscription you can either pay a daily fee of $0.79 or a lifetime subscription for just under $60. Each additional feature costs a certain amount of credits.
One thing to remember is that a subscription for the Premium service will automatically renew itself at the end of each billing period, so you'll need to make sure you cancel it if you don't want the service any more. Go to the Settings icon and then scroll down to Payment Settings to click 'Unsubscribe'.
How to pay?
You can either pay by credit card, PayPal, or 'Pay By Mobile' where the cost of the credits is charged to your mobile phone bill.
💡 How to reduce costs at Badoo?
If you want to increase the popularity of a profile then you can purchase 'Super Powers' for just under $10/month, or less if you buy a six-month deal, where the price drops down to $39.99 (so just over $6.66/month). This is really the only way you'll save any significant amount on the Premium service (remembering that the basic package is free anyway), so if you're planning to use the platform for longer and want to raise your profile with the Premium service, a six-month package is a better idea than paying monthly.
📊 Membership structure. A great social network for 20-35 year-olds
Badoo is aimed at the 20-35 age group and is principally for young professionals who want to connect with people around the world, not just in their local neighbourhood. The platform hosts around 350million messages a day, and has over 60million monthly active users, so it doesn't get stale or dull.
Around 300,000 new daily sign-ups also mean there are thousands of new people constantly joining the network.
International coverage
The reason it gained popularity so quickly is because of its cross-OS format (it's available for Android, iOS and the web), and the use of a freemium model, so that the basic core services are available free of charge.
It now has offices in Malta, the UK, the USA and Russia, with its headquarters in Limassol, Cyprus. This no-borders reach means that it's accessible right across the world, making it even more appealing to users, regardless of their location.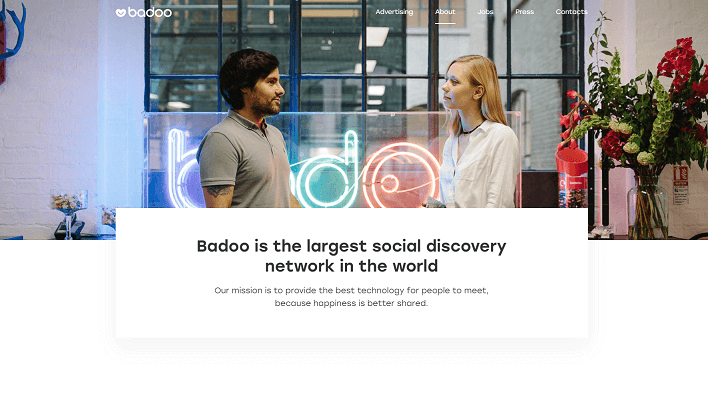 ✍️ Registration
Signing up is simple.
Go to Badoo.com and on the front page, select your gender.
Indicate what you want to use your profile for, by choosing 'Chat', 'Make new friends' or 'Date'
You'll then be asked for personal details including your name, date of birth, location, and email address.
Click 'Create Account'
Populate your profile with pictures to add interest, and more information about yourself, such as interests, hobbies and what kind of contact you're looking for. You can add to your account as and when you want, and download pictures from other social media sites. Keep it fresh, interesting, and simple to encourage more matches.
You'll also need to link your account to other social media platforms, as well as undergoing a phone verification to confirm you are who you say you are. Verified users get a blue check mark at the bottom of the profile picture.
📱 User friendliness and the app
When we decided to carry out a Badoo review, one of the key areas we looked at was how user-friendly the site is. Fortunately, we can report that it's simple, straightforward, and very easy to navigate, with clear icons and emojis that make it simple to find your way around.
However, one of the weak points for the service is that there's no 'personality test' that can help to narrow down your suggested matches, just a huge list that takes ages to go through.
The profile scoring system depends on how many photos you upload and how people react to the pictures.
The mobile app is probably more user-friendly than the web-based site, whether you're using iOS or Android. They've kept the layout very simple and clutter-free, and the mobile app actually has more on offer, too, including the 'Bumped Into' and various chat features.
There are the occasional technical hiccups (as you would expect with any app), but they're generally dealt with quickly by the moderators.
✉️ Contacting users
Badoo is primarily a social discovery network that puts the emphasis on meeting potential new romantic partners. The most popular function is Badoo Encounters, which enables users to search for matches in their area. To initiate contact, you simply press the heart icon (or 1 on the keyboard if you're using the web-based portal) if you're interested, or the X (or 2 on the keyboard) if you're not.
If you want to know more about a person you can check out their profile before you take things any further or decide to chat with them.
How to add contacts
Time needed: 6 minutes.
This a step by step guide to easily add contacts.
People Nearby

Open the app and go to 'People Nearby'. This will give you a list of people within your area, depending on your location settings.

Goal

Decide what you want to do by highlighting the icons underneath the 'I'm here to' section. This can be 'Make new friends', 'Chat', or 'Date'.

Gender choice

Tick either 'Guys' or 'Girls'

Geolocation

Put your preferred location in the 'Where' box

Interests

Add any interests that may narrow your search down

Fine-tuning

Use the slide-bars to set the age and the radius in km of your chosen location

Refresh

Click 'Update results' and unless you select any specific options in the 'Change' tab, Badoo will show you a list of new potential contacts that meet your search criteria.
Adding contacts manually
It's relatively simple to add contacts manually, simply by clicking on the username of a profile to access their information. Go to the 'Chat now' button at the top right-hand corner and you'll be able to message them in the same way you would with any other social network.
Alternatively, you can send a Welcome message to a user, and they'll be added to your contact list straight away.
You can only add up to 12 contacts a day using the free service, but if you pay for the Premium service you can add 20 more contacts a day. You'll need 100 Badoo credits to do this, which will cost you around $2.
If a person doesn't reply to your initial contact then you can send one more message, but that's your limit. This is to prevent users from being harassed by constant messages from people they don't want to communicate with.
👍 Pros and cons 👎
What we like
The laid-back, relaxed format
The multi-OS compatibility for iOS, Android and the web
The simple, no-fuss, no-frills format
The principle of inclusiveness – everyone is welcome with no pressure and no hard sell
The openness of the brand – it's happy to tell you all about the Badoo experience from top to bottom.
Video Chat: In August 2017, Badoo launched its video chat function that allows users to connect in real-time, once they've exchanged messages.
What we don't like
It's still quite easy to create an account without consent, and a peer-reviewed study by Cambridge University in 2009 gave Badoo a very low score for privacy.
The way the brand advertises is as a way to meet local friends, but it is, in fact, a photo-based dating website. The brand needs to be more honest about exactly what it's offering.
The matching system can be a little obscure, and needs to be more defined to avoid unsuitable matches.
Badoo credits expire after six months (unless you buy them through iTunes), so you need to use them up as they don't 'roll over'. They're not redeemable for money, either.
🙋 FAQs
What's Badoo's backstory?
Starting life in Moscow in 2006, Badoo grew rapidly and now operates in 190 countries, and in 47 different languages. Andrey Andreev, the innovator and founder of the Badoo brand, was convincing enough for investors to entrust $30million in funding in 2007, enabling developers to really work on the platform's usability, security, and overall format.

A high-profile social media marketing campaign saw Badoo go viral on the world's largest social networking platform, Facebook. It was particularly popular with younger users because of the inclusion of social games and quizzes, making it a much more user-friendly platform.
What is Badoo Request a Selfie?
One of Badoo's security measures is the 'Request a Selfie' option, which is designed to stop users being harassed or the victims of catfishing. The service is currently only available for women users, who can request a selfie to authenticate that a contact is who they say they are. There are, however, plans to make it available to everyone at a later date.
How do I request a Selfie?
When a woman has a male contact get in touch, she can request a selfie, which will direct the male to take a photo. The selfie is only visible to the user who requested it, and is not added to the male user's profile.
How does Badoo Encounters work?
The 'Encounters' function is right at the heart of the service, which works in a very similar way to other dating websites. Signing up for the Premium service increases your chances of finding a more appropriate match in your area, by providing you with more options to narrow down your search parameters.
What is Badoo doing to address security concerns?
Initially, there were a few questions concerning the security of the site, especially the ease with which fake accounts could be created. Badoo has taken onboard criticism with regards to the safety issues, and is continually upgrading its security and safety features to make sure accounts are genuine, and verified.

Part of this includes gathering personal information to verify that the person opening the account is real and not a 'bot' trying to farm data. So you'll be asked for your name, email address, age, gender, date of birth, and location.
What additional information does Badoo ask for?
You'll be asked for a phone number, which is held for up to 90 days. If you expand your profile to include premium services, you'll also have to supply payment details. The site operates a secure https URL.

If you use the mobile app rather than the web, the company does collect data about Wi-Fi access points and location information. This is so that users can view 'nearby' posts. However, you can turn off the location services by changing the privacy and location settings on your phone.
What is Badoo's Photo verification system?
Photo verification is also being used by the platform, to make sure users are who they say they are. The user is asked to upload a photo of themselves mimicking a specific pose, which is then checked by one of Badoo's 5,000 moderators.
How to change location on Badoo
Go to your profile and click on the tab next to your current location. You can then enter a new location. Make sure you only have one app open, or your GPS system won't be able to complete the location function correctly.
ℹ️ Company information
Website: www.badoo.com
Headquarters: The Broadgate Tower
Third Floor
London EC2A 2RS
United Kingdom
We also have reviews of all these dating pages