Launched in the late 90s, AdultFriendFinder was one of the first casual dating sites on the market and, with over 94million members, it remains one of the largest. It's a site that encourages casual (yet responsible) sexual encounters, rather than long-term relationships, and does what it sets out to do very well indeed.
AdultFriendFinder is the brainchild of Andrew Conru. He noticed that most of the members of his original site, FriendFinder, was being used by people looking for casual sex partners. As a result, he decided to found a sister site specifically designed to meet those needs.
The site proved to be hugely successful, providing a safe and relaxed environment for both straight and gay people to hook up for casual sex encounters.
However, it's had its share of problems. In 2015, the adult dating site was hacked, exposing the details of millions of members. The hack also uncovered a huge number of fake profiles, which further tarnished the site's reputation.
These incidents prompted AdultFriendFinder to beef up its online security and, since then, it has reclaimed its crown as one of the most popular sex dating sites in Australia and New Zealand.
With the number of users growing, it looks as though faith in AdultFriendFinder has been fully restored. However, should its users have as much faith in it as they do, or is this popular hookup site another leak waiting to happen? Read our in-depth AdultFriendFinder review and find out.
Our Summary
AdultFriendFinder doesn't beat about the bush; you know, within seconds of signing up just what this site is about. If the invitation to "Hookup, Find Sex or Meet Someone Hot Now" doesn't give the game away, then the profile pictures will.

However, one of the downsides for male users is that men outnumber women by around 16 to one. In addition, despite AdultFriendFinder's improved security practices, there are still enough fake profiles, usually purporting to be women, to make the experience a little frustrating.

This service is for those looking for adventurous sexual experiences or short-term sexual encounters. In addition to singles looking for one-night stands, you'll find couples and swinger groups touting for threesomes, partner-swaps and group sex.

In short, if you're looking for a serious relationship, then this site isn't for you. It's a site that's focused on casual sex encounters, so expect explicit photos and open-minded Live Chat sessions. However, if this sounds exactly what you're looking for, then AdultFriendFinder has got your name written all over it.

While you can opt for the standard, free membership, it's only subscriptions that offer access to all its features and allow you to take things to that all-important next step. It's true that men outnumber women but, with daily sign-ups, there's always someone new to talk to.

All in all, we're happy to give AdultFriendFinder the seal of approval. It doesn't pretend to be anything it isn't and, while it might not offer a seamless experience, there are few sites that do. While it might not be for everyone, the users you find on it know exactly what they're there for.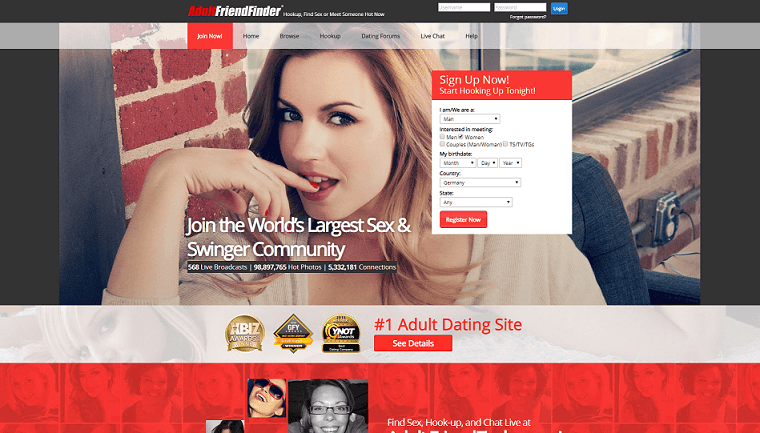 🆓 Free services and paid-for services
Whether you're looking for casual dating or sexual encounters, AdultFriendFinder is one of the few adult dating sites that offers its members excellent free services. Liking another user's photos and videos is a great way of expressing your interest before you get into messaging.
Similarly, the facility to hotlist other members' profiles and join groups and blogs won't cost you a penny either. However, given the site's purpose, perhaps the best free features are the facility to participate in chatrooms and to watch one other user's live webcam for nothing.
To make the most of your online experience, there's no question that you'll need to subscribe and gain access to the little extras. Once you're a fully paid-up Gold Member, you'll find things level up, with features such as the ability to send and receive messages included in the fee.
Subscribing also gives you the option to see other users' profiles in their entirety, watch as many webcams as you like, and take your pick of videos and photos. Membership also removes adverts from your interactions, giving you a much smoother online experience.
💰 How much does a membership cost?
You can sign-up for free, but you won't get access to all the bells and whistles that can make sex dating that much easier. Subscriptions are sold as 'Gold Membership' and are broken down into three payment plans:
| | | |
| --- | --- | --- |
| Gold Membership | Monthly price | Total |
| 1 month | 30.00 NZD /Month | 30.00 NZD |
| 3 months | 20.33 NZD / Month | 61.00 NZD |
| 1 year | 15.08 NZD / Month | 181.00 NZD |
Buying Gold Membership puts you in the ranks of those who are serious about pursuing threesomes, casual dating and one-off sex partners. However, a slight downside is that once you're paid up, only other subscribing members can view your profile.
With so many new users online each day, this does mean that you might be missing out on that certain someone who's only using the free membership package. To make sure that your radar reaches as far as possible, you can add the Standard Contacts option to your subscription.
Standard Contacts allows free members to view your profile and is charged as an extra, in two packages:
One month is charged at 30.00 NZD
Three months will cost you 61.00 NZD
How to pay?
You can pay for your AdultFriendFinder membership using either a debit or credit card or by setting up a direct debit. It's worth knowing that the service appears on bank statements as 'adultfriend'. If you want to keep your online liaisons secret, then it's well worth considering cancelling paper statements.
💡 How to reduce costs at AdultFriendFinder?
The obvious way to completely minimise your costs is to use the free service only. However, this does limit your adult dating options. To make the most of everything the site has to offer, your best bet is to opt for one of the longer membership packages, which are charged at less per month.
You might also want to consider whether the Standard Contacts feature is worth your while or not. If you're happy to interact with other paid members only, then don't bother adding it to your subscription.
📊 Membership structure
AdultFriendFinder is aimed at singles, couples and even married people, who are looking for extra-curricular sexual encounters. While anyone over the age of 18 can join, the age-groups that show the biggest online presence are those between the ages of 30 and 50.
However, the website isn't exclusively straight; you'll find a large portion of the membership made up by gay and lesbian users. Men typically outnumber women by an estimated 16 to one but with regular daily sign-ups, there are always fresh faces to connect with.
Because AdultFriendFinder does exactly what it says, you can expect to find yourself looking at some fairly explicit photos. If you'd rather not, there is a 'No Nudity' option in your personal settings. Select that and you won't see any more flesh than you want to.
However, if you do select 'No Nudity', the chances are that this isn't the site for you. AdultFriendFinder makes no bones about the fact that it's a hookup site for the sexually adventurous. Long-term relationships aren't at the front of most users' minds.
International reach
While you can use AdultFriendFinder to find online sex friends in your area, you can also use it to take part in sexual encounters in other countries. This adult-oriented social network site's headquarters is in California, but it has offices in 25 different countries.
With millions of users, from all corners of the globe, looking for no-strings sex, there are plenty of opportunities, whether you're single, looking for an affair, or are in an open-minded relationship.
✍️ Registration
Time needed: 5 minutes.
Signing up to AdultFriendFinder is simple and shouldn't take you much more than three minutes.
Step 1:

Go to the website's homepage. You'll see a 'Sign Up Now' form.

Step 2:

Fill in your sex, birthdate, location and what it is you're looking for from your online encounters. Hit 'Register Now'.

Step 3:

On the next page, you'll be asked to supply an email address, create a username and password. You can also add an 'introduction title' and write a little about yourself. The site states that you shouldn't include any personal contact information at this point. Hit 'start having fun'.

Step 4:

You'll now be asked to verify your email address by clicking an activation link sent to the address you registered with.

Step 5:

Click the link, log-in and, like the button says, start having fun.
Once you've registered, you can get to grips with your profile and personalise it. This includes adding photos, which fall into the 'no holds barred' category.
📱 User-friendliness and the app
One of the most important aims of our in-depth AdultFriendFinder review was to assess its user-friendliness. Thankfully, we're happy to report that this site is very clearly laid out, so you know exactly what you're doing and who you're connecting with.
You'll find a range of settings including Who's Online, New Matches, and Members Near Me. You can also use Kink Search to narrow your search down to those with interests to your own, such as BDSM. There's also the option to watch Live Videos and even to upload your own.
For AdultFriendFinder mobile fun, there's the AdultFriendFinder app. It's just as easy to use as the desktop site and you can interact with users, watch videos and see photographs without any problem at all. The layout is almost exactly the same, making it familiar and convenient to use.
✉️ Contacting users
The spectrum of human sexuality is a broad one and AdultFriendFinder aims to cater to those who are looking for one-off sexual encounters, threesomes, and swinger groups. The environment is safe and secure, and users can choose to interact online only or meet, in person.
If you're a Gold Member, contacting other users is simply a matter of messaging. Type out your message, hit send and wait for the reply. However, this facility isn't available to those using a free membership.
Free members are limited to using chatrooms to interact. While this isn't necessarily a problem, the chatrooms can get very busy and trying to contact a single user can be difficult. If privacy and discretion are important to you, Gold Membership offers what you need.
👍 Pros and cons 👎
What we like
There are plenty of options for contacting other users, whether you're using free membership or you're fully paid up
Search filters allow you to find exactly the kind of person you want to meet
Instant access to explicit photos
An affordable pricing plan, particularly for long-term use.
What we don't like
Men outnumber women
There are still some female fake profiles floating about
Security has been compromised in the past, which may be of concern
There are ads and pop-ups almost everywhere, until you sign-up for Gold Membership.
🙋 FAQs
Is AdultFriendFinder really free?
Using the site is free to begin with. However, to take full advantage of its features and unlock some add-ons, you'll need to subscribe to the Gold Member package. Free users are limited in what they can do and are bombarded with ads. These are removed once you subscribe.
What is the difference between entering as a guest and entering as a member?
The big difference is that you can only send and receive messages as a subscribing member. Free users are restricted to trying to make contact through chatrooms, which can be tricky. You'll also find that Gold Membership removes the adds and pop-ups that guests are subject to.
How do I update my profile on AdultFriendFinder?
You can change details on your profile by clicking on the 'My Profile' tab. This will take you to your profile page, where you can change details about yourself, your preferences and even upload photos.
How do I turn off auto-renewal on AdultFriendFinder?
Membership is automatically renewed towards the end of your subscription and charged to your debit or credit card. If you decide that you want to cancel your subscription or don't want your membership automatically renewed, then there are five steps to follow:

1) Log in to your account and go to your homepage
2) Click the 'My Account' button
3) You'll see a 'Billing History & Credit Card Info' tab. Click on that
4) You'll be shown your 'Product Status' at the top of the page
5) Set the Product Status to 'Off' and your auto-renewal will be cancelled.
How do I search for other members on AdultFriendFinder?
The navigation bar on your homepage has a 'Search' button. You can use this to search for members by their usernames or to specify certain criteria to find like-minded people.
ℹ️ Company profile
Website: www.adultfriendfinder.com
Company HQ:
Various Inc
910 E Hamilton Avenue
Campbell
CA 95008
USA
CEO: Andrew Conru
We also wrote reviews for the following dating sites