Flirt is a dating site for singles that is focused on giving locals a platform for flirting and setting up quick dating arrangements easily. It has over 1 million members worldwide, giving locals the world-over a fun, casual way to get to know each other!
Flirt has set itself apart from other dating websites by focusing on giving users direct, easy-to-use chatting services specifically focused on connecting you with interested locals. Think of Flirt as a Tinder-like dating site aimed at being casual and racy.
To top it off, women will be able to send and receive messages freely, and to share what they want to with who they want without any costs.
Flirt encourages you to try and put yourself out there in a way that is healthy and even possibly rewarding. It stands ahead of other dating services by giving women the advantage in casual dating and by being very affordable.
To show you why we think Flirt deserves your attention, we review Flirt and look at its members, the user-friendliness of the site, Flirt's features, and its prices.
Take a look at the best hookup sites!
Our Summary
Flirt offers you an alternative approach toward dating that is focused on quick, fun interactions and chats that show you a unique side to locals close to you. The layout is generally pleasing and comprehensive. The language is straightforward and people's profile pictures are displayed nicely for a quick scan.

Flirt sets itself apart by giving women who sign up free and unrestricted access to the site's messaging features. However, men will be left with fewer dating options as they cannot read messages they receive, which is a problem. That said, even with the limited free chats you get a day, users have found ample opportunity to match and enjoy a casual flirting and dating experience that they find rewarding.
🆓 Free profile vs paid profile review
The free profile only applies to male users, as women will have more access to the site from the get-go with an account.
There are still plenty of things to do though, and not all features are unlocked for women, so it's worth checking out. How do the paid and free Flirt dating experiences measure up?
2019 Free membership
Receiving messages (but not reading)
Sending 5 free messages
Who saw your profile
Sending 'winks'
Adding users to 'favourites'
2019 Paid Membership
Unlimited chats
Big photos
'Looking for' info
Extended search
Premium support
Share photos and videos in chat
View profiles undetected
💰 Full membership prices
Flirt currently only has one type of membership available for users, which is their Full Membership subscription plan. Any membership subscription will auto-renew but you can cancel any time.
Premium monthly plans
Flirt follows a simple payment plan:
| | | |
| --- | --- | --- |
| | Price per day | Total |
| 3-day trial | £0.99 | £2.97 |
| 1 month | £1.07 | £32.10 |
| 3 months | £0.78 | £70.20 |
| 6 months | £0.48 | £86.40 |
Check Flirt's terms and conditions for the policy on paying and cancelling subscriptions.
💡 How to reduce costs?
Take advantage of their payment plans
The 3-day trial is good for a quick, cheap test so long as you remember to cancel the auto-renewal
Alternatively, the cheapest option on a day-to-day basis is the 6-month plan
Explore the site thoroughly with a free version to see if it is right for you
It is always a good idea to test out the site for yourself to see if a Full Membership account will be what you want. Women can enjoy the site in more depth to see if they want the full perks of a paying account.
Women use the site's main features for free
Women can enjoy the benefits of Flirt's basic messaging features simply by signing up to the website. They will get to see messages and chats from people near them and can send a message to men for free (though not to other women).
📊 Membership structure
How many Flirt users in New Zealand?
Currently there are over 4,000 men and women in New Zealand using Flirt, giving users plenty of options for finding a casual hook-up experience.
Flirt demographics of love
Current data for Flirt shows that most users are within the 20 to 25-year age range and are seeking casual encounters.
Flirt's progressive approach for women has seen a larger number of female users on the site, giving men good odds of meeting someone while women can enjoy the site's best benefits from the start.
Flirt currently has a 60% demographic of women on the site
55% of Flirt's female users are approximately under 30
Almost 80% of Flirt users are under 45
Men make up about 34% of the 20-25 age range
Flirt finds most of its audience with younger women, which means that men who are willing to pay as little as 50 cents a day will have a wide selection of women to flirt with.
✍️ Registration process and profile creation
Flirt encourages an easy start for new users, so the registration process for the website is quick and easy to do. It only takes a minute, and you can finish your profile later if you would like.
Signing up

Start off by putting in what you are and what kind of relationship you are looking for (example: man looking for woman), and then include your age, email address, and a password. Wait for the activation code to come to your email (takes 5-10 minutes).

Uploading a photo

Once you have activated your account, you will be asked to upload a photo of yourself. This is optional but doing so will help you appear in search results and make chatting with local men and women easier. Women will need their photo verified.

Building your profile

You will then be asked to write a status about yourself and give your ethnicity, body type, and hair colour.

Creating videos and more

Flirt allows users to create short videos to introduce themselves and give other people an idea of what they are like.
You can also explore chatrooms and expand on your identity by adding to your profile and socializing with others using the paid features.

Payment plans

Flirt will require men to sign up for a payment plan to use the site, so you will sooner or later need to consider which option you would like to sign up with so you can enjoy what Flirt has to offer. Women, however, can enjoy the site from the start!
Even though men need to pay, the prices are affordable, and you can reduce your costs to test the service out for yourself.
📱 User friendliness
Flirt dating site
Registration
Flirt's registration process for an account is incredibly quick and easy to do, requiring you to simply state what gender you are and who you are interested in flirting with, as well as age, location, and a brief statement.
Women will have to verify their identities with a photo that will be reviewed by a moderator to ensure that fake profiles are not signing up. Flirt sets you up to start your casual dating in less than 3 minutes. You can review any data later by clicking on your profile's picture in the upper right.
Navigation
Flirt gives people an easy way to see what others want to share about themselves, giving well-sized pictures and profiles to explore. The site is streamlined and encourages quick, enjoyable exploration.
Profile
Profiles are easy to set up and give you the freedom to add as much as you would like whenever you would like. People who don't want to share their info can leave any field they want blank if they wish.
Flirt features
Flirt offers several ways for full members to contact one another and share personal information, including the 'Naughty but Nice' and 'Meet Me' chatrooms, as well as Flirtcasts.
Members will be able to use these features to easily start dating locals or to just flirt. None of the features are explicitly for dating, so you are free to decide whether you simply want to chat or have some fun.
Flirt dating app
There is no app currently available for Flirt on either iOS or Android, just the website. Hopefully they will release an app for mobile to help give people easy access anywhere.
✉️ Contacting users with Flirt's chatrooms and messaging
The Flirt website offers users a variety of way to get in touch with one another, using either the free chat service accessible below each profile or the many chatrooms available to Full Members.
How to contact another user:
Chatrooms are a big part of the user experience for Flirt members, including:
Naughty but nice – This allows users to get to know each other by sharing their more intimate qualities
Meet Me – Flirt's way of giving users a way to set up meets based on proposed date ideas
Flirtcast – While not a chatroom, 'Flirtcast' is an open-ended personalized message that is directed to others in the Flirt pool
There are also standard messages that you can send to others using the chat icon below each profile picture. Simply click on the chat button and a chat window will open. You can send up to 5 a day freely, and full members can send an unlimited number.
👍 Pros and cons 👎
Pros
Availability of audio and video technologies on the site
Payment discretion
Profiles show how many minutes someone is from you
Women can reply for free
You can 'request more info' from users that have an uncompleted profile
You can request partial refund from Flirt if you're unsatisfied for a reason
You can set 'Safe Mode' which eg. allows only verified users to contact
Cons
Men will have to pay for membership
There is no way to know if you are compatible with someone before flirting/chatting
There is currently no mobile version or app for Flirt
It takes approximately 24 hours for an admin to accept your photos and profile info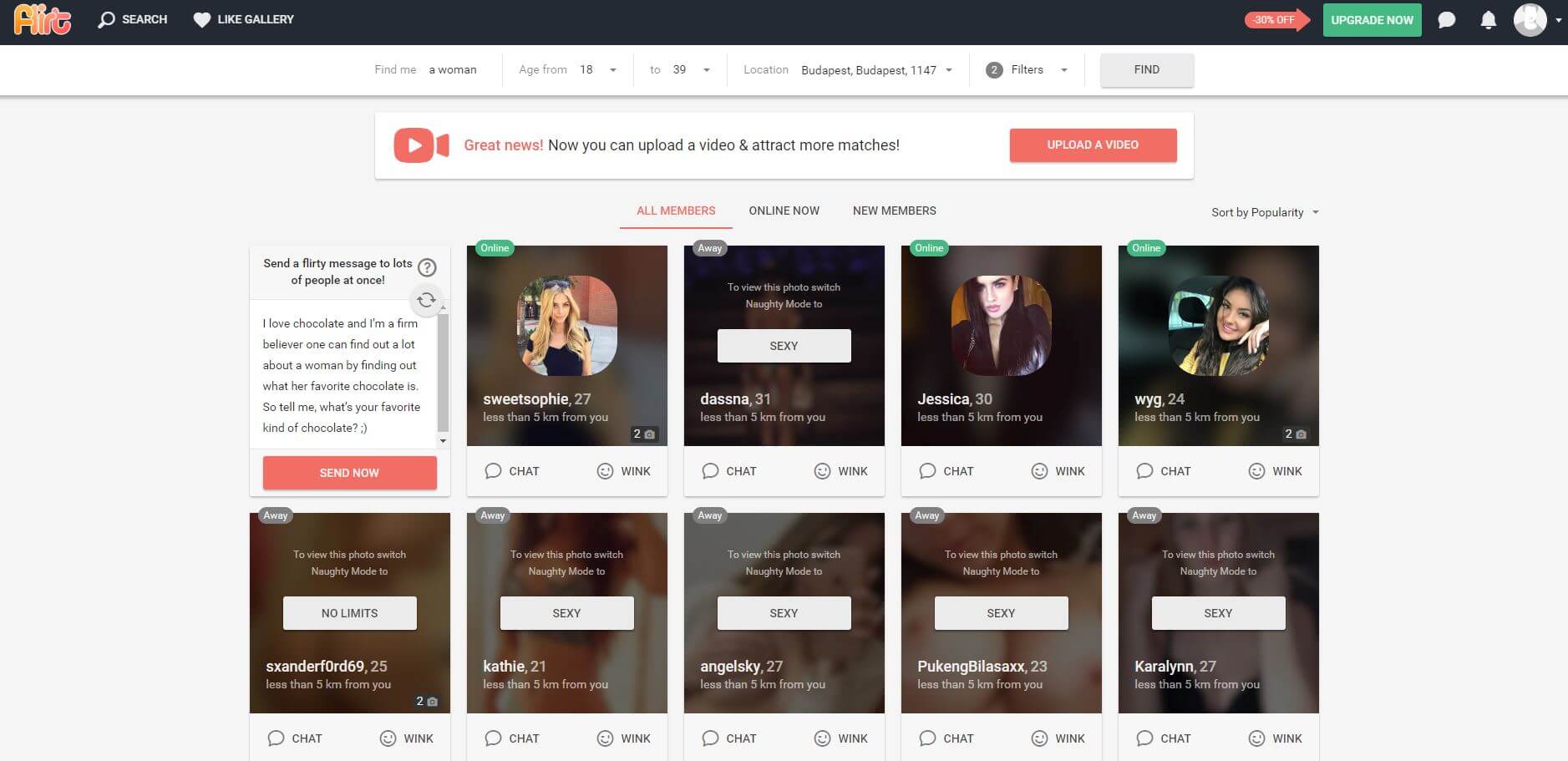 🙋 FAQs
Does Flirt have a mobile app?
Unfortunately, at the time of this review Flirt does not have a dating app available for download.
What is 'Safe Mode' in Flirt?
'Safe Mode' is a security feature for the website. Moreover, there are three types of 'Safe Mode' you can set on your profile:
Off – With Safe Mode off, you can be contacted by all members
Basic Safe Mode – You can view and contact all members except for those marked as suspicious
Full – Only Verified Members can contact you
How many messages can I send?
Free users can send up to 5 chat messages a day. However, free male users cannot read the messages they receive. Female users can send and read as many messages as they like.
Full members will be able to send and view as many messages a day as they want to.
What security features does Flirt have?
The site monitors the user's activity, taking precautions to ensure the safety and privacy of its users. Flirt currently:
Monitors chat histories, photos, and content
Keeps your data secure with Secure Sockets Layer (SSL) software
Encrypts personal information
Requires verification for female users to prevent fake profiles
Has 'Safe Mode'
ℹ️ Company information
Flirt is owned by Together Networks Limited, which operates many dating websites. The company's websites include beCoquin.com, beNaughty.com, spicychats.com, flirt.com, and clickAndFlirt.com. The company was incorporated in 2013 and is based in Valletta, Malta.
We also wrote reviews for the following dating sites