Today, a typical dating site depends solely on a swift left or right swipe in hopes of finding a partner. BeNaughty however, is a chance to find singles in a different kind of way.
As the name suggests, this casual dating site, as found in our review, is a means in which to hookup.
This hook up site appears to be safe, easy, and a naughty way in which to date those you find intriguing.
So, while appearance is everything, there's something to be said about actual stimulation via face-to-face communication. It has the ability to boost attraction and desire.
In this review, we aim to introduce you to a new and innovative dating site. One where singles can play without judgement.
From online chat rooms, personalised search functions, and messaging, this platform may just be the place that'll ignite your fire.
How does BeNaughty work?
In our review, we found that BeNaughty is a platform for singles to hookup, mingle, and play. It's a hookup based site that focuses on your location, which gives you the ability to go out with and talk to like-minded individuals nearby.
It markets itself as a site to find love or fun, in a safe, easy-to-use, and respectful manner. Its main aim is to have a casual dating website that encourages active conversations and coupling as well as the best hookup site adventures.
It has an array of communicative features, that promises to add intrigue and excitement to having dating online.
The dating webpage has over 200,000 active members in New Zealand , with the majority of these members being between the ages of 25 and 45.
In our review, we found that this dating site tracks your location but only to provide you with better recommendations nearby.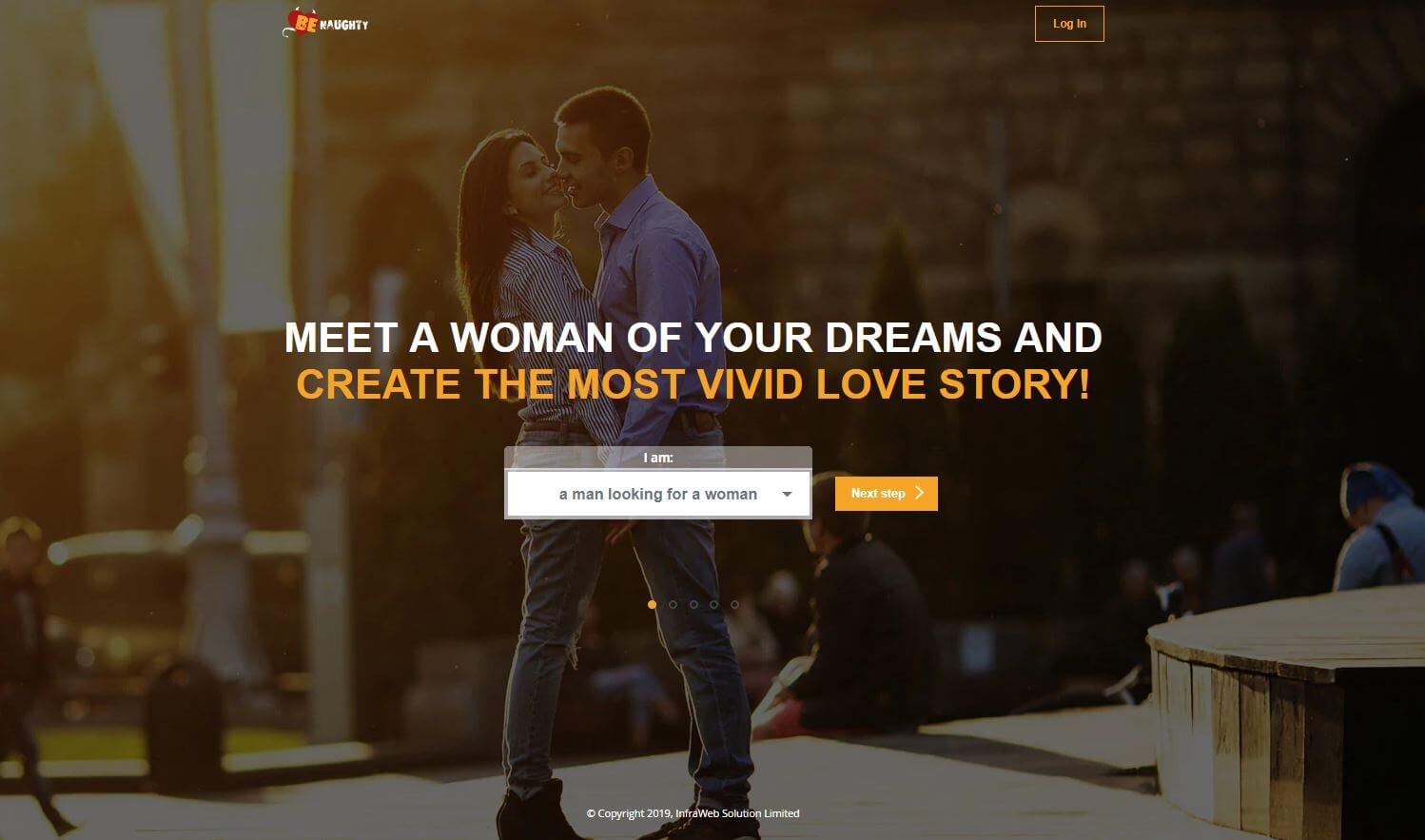 The ideal member profile
In our review, we found that this dating website is geared towards those looking for:
casual talking
hookup culture
casual dating
sugar daddies and sugar babies
gay partners
lesbian partners
straight partners
swinging
threesomes
mature women or cougars
married individuals looking for an affair
interracial partners
We believe that this dating site is commendable for its authenticity and straightforwardness. Our review has shown that hookup culture has been exceedingly easier, especially because of naughty platforms.
Those who make use of this platform are forthcoming about their intentions, making it a useful site for hookups, passionate trysts, fantasy fulfilment, and fetish exploration.
🆓 A review of the free services vs. paid services
Free Services
Comprehensives search function using filters
Photos are visible
Personal information is visible: body type, hair colour, ethnicity, orientation
Swipe function available on that have profile pictures
Men have five free messages to five people
Women have unlimited messaging
Online now function
Favourites list available
Winking
See new members
Full safe mode
The Chataholic Pack
Paid services
Unlimited chat option
Ability to enlarge all photos
Ability to see all photos in an album
Extended search filters
Premium support
Unlimited sharing option for photos and videos
Webcam option
Optional services include:
Promotion: sending winks and messages to potential matches
Full safety mode: be contacted only by verified customers on the site
Partial safety mode: block messages from flagged profiles on the site
💰 Prices and types of memberships
Our review found that, in order to reap the full benefits of this hook up dating website, especially for men, we recommend paying for a subscription. Payment via credit card on the site is available, and it appears that your privacy is a big concern for them.
Packages to access all functions of this dating site:
| | | |
| --- | --- | --- |
| | Price per month | Total |
| 1 month | 33.60 AUD / Month | 33.60 AUD |
| 3 months | 22.50 AUD / Month | 67.50 AUD |
| 6 months | 16.20 AUD / Month | 97.20 AUD |
📊 Membership structure
A review of their free membership
In order to have a free active account, at least one photograph needs to be uploaded.
This photo is checked and should pass the dating website's community standards before it goes live. Nudity, fake images and pornography are not allowed.
After providing basic information, matches will automatically be suggested to those who use this site. Singles can then start talking to one another via the chat function on the site.
Paid membership: What is the satisfaction program?
In our review, we found that, in order to test the paying version of BeNaughty you can sign up for the satisfaction program. This gives you three days of full membership functions to experience their hook up platform.
Using this feature is open to those who have been a member for a minimum of five days. The person should also have been active for at least three days.
Why is BeNaughty different from other dating websites?
This site distinguishes itself differently from other date sites because of its transparency.
Unlike other dating websites where the customer's intention is not clear, BeNaughty members know that the site is targeted towards casual fun.
For that reason, short-term membership options are available.
The website's design mimics these sentiments too, making it an all-round user-friendly experience.
Prospects are not necessarily looking for long-term relationships or commitments. It's for in-the-moment bouts of pleasure.
It also offers a Chataholic Pack which means unlimited messaging and the ability to see when someone has read your message.
✍️ How do I register on BeNaughty?
The registration process is very simple and straight forward. If your profile photo is accepted, set up will be complete in about five minutes.
Setting up your profile can be done by visiting their hook up dating website. The sign up option is clearly visible and easy to navigate.
Upgrading your account is easy and can be done by clicking the green "upgrade" button at the top right of the screen on the site.
📱 A review of user friendliness
How can I find a suitable match on BeNaughty?
This dating website has been built in such a way that finding a match according to your individual taste, is easy.
There are search functions available, and customers can find potential dates by searching for:
Age
Location
Marital status
Orientation
Appearance
BeNaughty dating app game: Cute or Not, and flirting options
While doing our review, we found that this dating site has created a function to increase intrigue and to facilitate better matching. Their game, Cute or Not, was formulated for members to see who had liked them and vice versa.
They also have a "wink" function that sends a fellow member a little wave of interest that you're keen to date.
✉️ How can I contact people on BeNaughty?
There is a chat function that resembles a social media IM. This function allows for the exchange of texts, photos and videos.
On the downside, our review found that, while men can receive instant messages from females on the site, they cannot respond with a basic account. This, of course, makes it a bit more difficult for men to initiate a date.
On the plus side, messages exchanged are generally very straightforward with clients being open to what they're looking for.
Customers on this platform are also more open to exchanging photos and video upon first chat.
👍 Our review found the pros and cons of this dating site👎
The pros of BeNaughty
fast and easy sign-up process on site
Chatroom function for quicker and easier communication
Free features available
Three-day guarantee if not satisfied
Profiles explicitly state what people are looking for
Website design is simple and easy-to-use
Videos can be uploaded
The option to see who is online
Members can set status updates
Comprehensive search and filter options
No evidence of fake accounts
Images and videos are checked for any violations
A diverse range of members who are open-minded and non-judgemental
Flirty add-ons
Photo swapping and video call functions
The cons of BeNaughty
Men cannot send messages for free
Men can not reply to messages unless they have a paying account
A photo can only be uploaded once, removing the chance of one person creating multiple fake profiles
It's not mandatory to have a complete profile, leaving some information lacking
Non-members can only view thumbnail photos
Profile photos can be seen but entire albums are only available to full members
Some information is hidden for those who are not full members
Regular e-mails, SMS's and push notification, but these can be turned off in settings
BeNaughty Review: A conclusive summary
In our review, we found that this site is:
Easy to use
Useful features for non-members on site
Optimal use for members
Open-minded individuals with a genuine interest
Highly secure site that allows for anonymity
Instant chat, flirty options, photo sharing, and video options
Testimonies: BeNaughty reviews
Real life reviews:
User: "I signed up to BeNaughty last week and have been using it most nights, doing some searches and sending a few messages out.

Have to say I'm pretty impressed by what I've seen. From reading other reviews I thought I'd be dealing with scammers a lot but it isn't really too bad and the site is easy to use. As for girls in my area, again it's fine.

Maybe not as many as Hook up Hangout or a couple of others out there, but still enough to keep me busy!

Hoping to meet up with one of the girls I'm speaking with soon, hopefully this weekend. Overall I'd say 8/10 but that could go up if I get some action by Sunday!"

User: "What can I say? I've gotten laid of this site so I keep using it"

User: "I used BeNaughty for not even a month now and it was a pretty good month. A few hot chats going on on BeNaughty.

I have no idea why I am so much luckier than the average person but online dating works for me."

User: "In my first few minutes of officially joining BeNaughty, I can say that the community is pretty active. I have received a lot of messages from women.

These messages do not just contain the traditional hi's and hello's, these women go for the kill and ask you straight away for photos and videos.

Others asked me to trade photos and see if we will like each other. A good personality can be a plus, but the real game here is how you look.

Most of the interactions are based on the physical appearance.

You can even play the hot or not game judging on profile photos. This dating site puts more value on physical appearance rather than emotions, which is good because people mostly come here looking for that aspect which traditional dating sites don't have.

That is one positive thing about this site: it is easy to know what a person wants with you because they don't play coy, they go straight to the point.

This is how interactions are encouraged in BeNaughty–you want how someone looks, go for it and ask whatever you want to ask."
🙋 FAQs
Is there a BeNaughty app?
Our review found that there is a BeNaughty app, and it currently holds a four out of five-star rating.

Our review of the pros of the BeNaughty app:

1. Clear design and easy-to-use
2. Site functions are available on the app
3. The game, Cute or Not, is easier to play on the app
4. Profile photos are more clear

Our Review of the Cons of the BeNaughty dating app:
• It is currently only available for Android customers
How do I sign up on BeNaughty?
We found it to be quite simple. To create a profile, one should fill out a few personal details such as:

• Gender
• Age
• Location
• E-mail address

In order to have an active BeNaughty account, at least one photograph needs to be uploaded.

This photo is checked and should pass the dating website's community standards before it goes live. Nudity, fake images and pornography is not allowed.

After providing basic information, matches will automatically be suggested to the user. Singles can then start chatting to one another via the chat function.
Is my data and personal safety at risk by using BeNaughty?
This dating webpage has several rules and regulations in place in order to provide safety for its users.

Strict photo upload regulations
• Users must verify their e-mail address
• Photos of: nudity, pornography, violence, offensive gestures, non-human beings, and personal details are not allowed
• Audio and video functions are available with anonymity
• Basic safe mode is available, blocking messages from flagged profiles
• Full safe mode is available for free where contact can be made by only verified users
• Full HTTPs encryption, browse incognito, and auto history cleaning
• Anti-fraud system to regulate scammers and spammers
How do I deactivate my BeNaughty account?
1. Click "My Account" at the top of the webpage
2. Click "Remove Account" at the bottom of the page.
3. Enter log in password
4. Click "Remove my profile, contacts and personal information"
5. Optional: give a reason for deletion
6. Enter Capcha code
7. Confirm deletion
How can I re-activate my BeNaughty account?
By logging back in to re-activate the account.
How do I cancel my BeNaughty subscription?
We found the cancellation process to be easy. Users can click on their profile picture via the settings button to cancel their subscription. A code will then be given to the user for cancellation.

An additional phone call can be made to cancel your subscription.
We also wrote reviews for the following dating sites